Accelerate business value from A.I.
with Early Value Navigator
BETTER BUSINESS PRODUCTIVITY AND VALUE FROM ARTIFICIAL INTELLIGENCE (AI)
AI Early Value Navigator
A proven pathway to business productivity and value from AI through smarter collaborations



Learn more about early sources of business value available from AI and data intensive technologies.

AI Early Value Navigator provides:
An 'on ramp' for businesses looking to boost productivity and extract business value from the adoption of AI

Improve your business's competitive advantage, by discovering:
The best place for your business to start its AI Journey

Opportunities for your business to quickly improve productivity and create value from AI


Ways your business can catch up with AI early adopters
A challenge lead process that helps AI researchers or developers exploit their IP to increase impact and value

Capitalise on your AI research or applications by:
Obtaining clarity on where and how business can extract value from your IP and expertise

Collaboratively discovering the best way to commercialise your AI research, expertise or IP


Identifying key metrics that can demonstrate the business value and productivity of your ideas
AI Early Value Navigator helps you find your best pathway to business productivity and value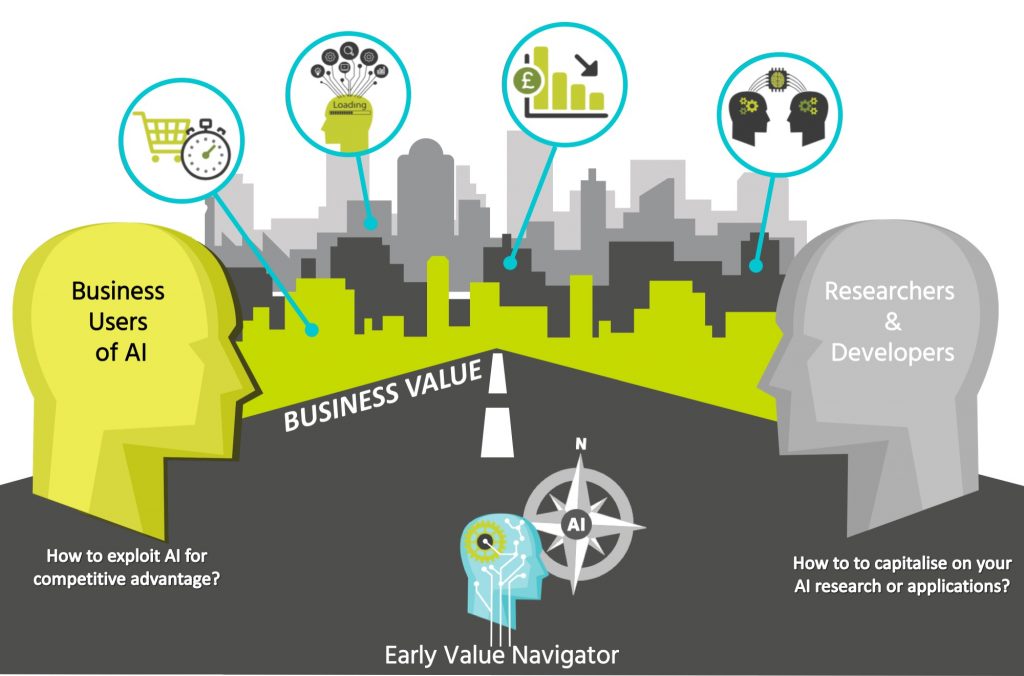 How does AI Early Value Navigator enable faster business productivity and value?
AI Early Value Navigator is a collaborative process that maximises early business value from AI projects.  Built upon our proven collaborative innovation process – InCEPTTM, tuned to accelerate the adoption of AI and related technologies. 

Unlike, technology-centric approaches to AI innovation and adoption, AI Early Value Navigator is: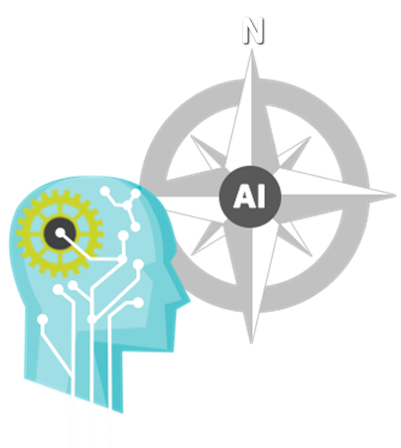 Technology-agnostic

Focused on meeting business objectives and challenges to unlock new sources of value.


Enabled by a clear, proven process for engaging with business leaders responsible for sustaining the competitiveness of their organisations

A productive collaborative approach that supports open, effective, trusted engagement between technical and business cultures and interests

Allows concurrent collaboration between multiple organisations to provide scalable adoption and acquisition of business value
What makes AI Early Value Navigator different?
AI Early Value Navigator incorporates our practical experience of working on collaborative artificial intelligence innovation projects for over three years.  These projects have involved researchers, application developers and businesses seeking get a first mover advantage from the use of AI.
AI Early Value Navigator Case Study:  a tried and tested approach used in the IROR Programme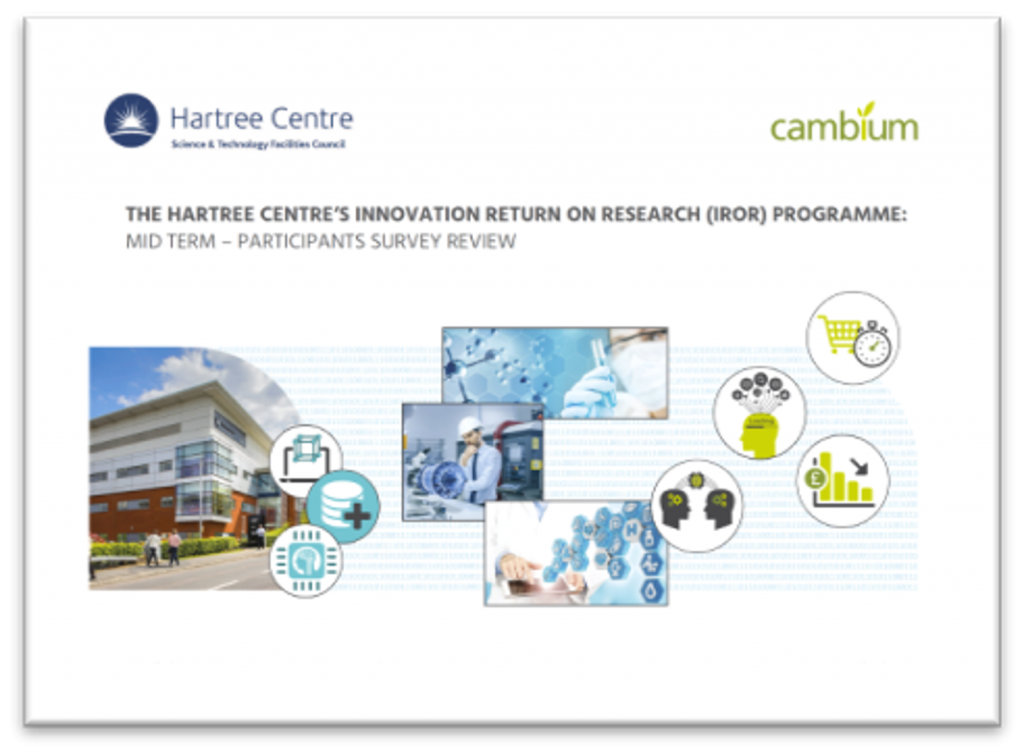 Cambium has been pleased to support this programme through the delivery of collaborative innovation support using our InCEPTTM process.  This tested approach underpins our AI Early Value Navigator offering.
The Hartree Centre recently completed  a survey from work commmissioned by the Hartree Centre as part of their Innovation Return on Research (IROR) programme.  This survey assessed the early sources of value that participants had begun to observe from the IROR programme.

Learn more about early sources of business value available from AI and data intensive technologies
Learn More About Other Innovation Support Services Offered By Cambium