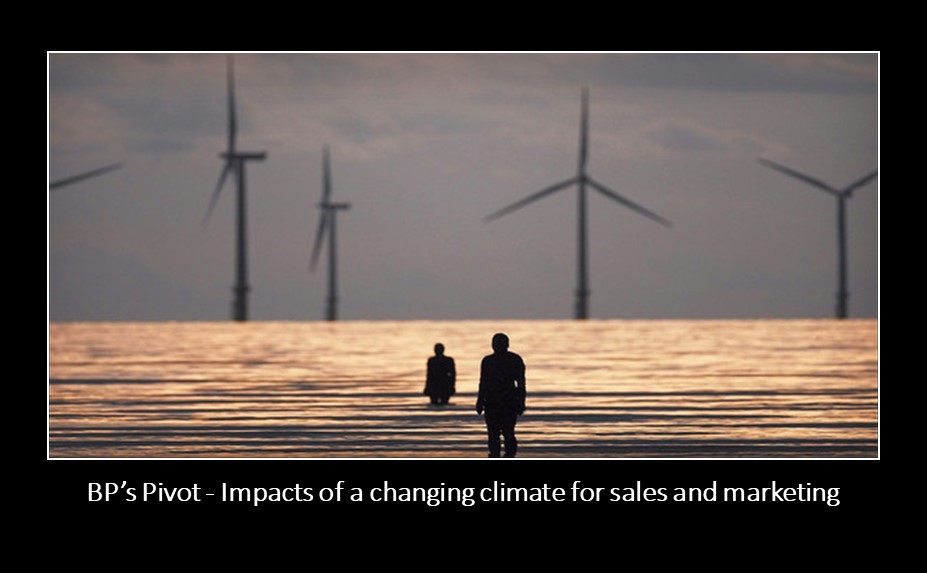 BP's pivot away from oil also signals a changing climate for sales and marketing
BP's strategic shift announced on Tuesday 4th August 2020 also points to a changing climate for sales and marketing teams in B2B markets.  In its public declaration, BP mapped out how it plans to navigate the next decade by radically cutting back on its oil and gas business.  BP will transform itself by halting oil and gas exploration in new countries, slashing oil and gas production by 40%, lowering carbon emissions by about a third, and boosting capital spending on low-carbon energy tenfold, to $5 billion a year.  With this announcement, BP is the first super-major to detail, what its energy transition plan will require.
BP chief executive Bernard Looney said in a statement; "We believe our new strategy provides a comprehensive and coherent approach to turn our net zero ambition into action," …. "This coming decade is critical for the world in the fight against climate change, and to drive the necessary change in global energy systems will require action from everyone."
For some this announcement is long overdue and others may be sceptical of the motives of one of the world's largest contributors to the climate crisis.  Nevertheless, the announcement itself has important lessons for leaders of sales and marketing teams in business to business markets.
"The times they are a changin'"
The financial markets are often a leading indicator of new strategic shifts.  On Tuesday BP also announced an immediate 50% cut in dividends to fund this pivot.  Despite this, market reaction was positive and by 10 a.m. BP's shares had jumped more than 6%, outpacing smaller gains among other oil companies.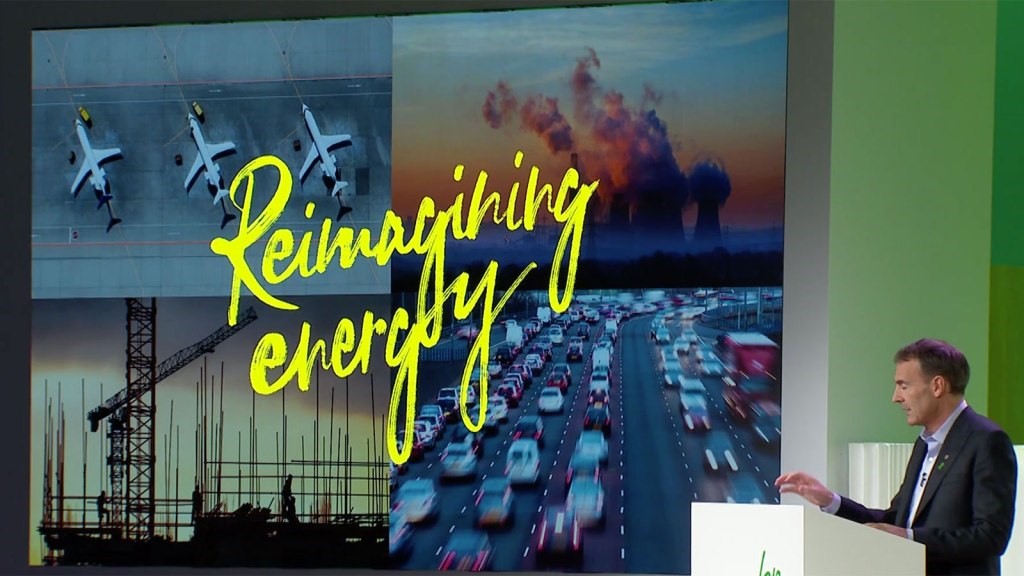 The BP announcement is the clearest evidence yet of the seismic change that is set to impact all businesses in the next decade as economies seek to make a transition to net zero.   If the adoption of net zero is forcing strategic change in a major oil company, whose business is fossil fuel production and distribution, it means that every business will also be affected and will need to change.
BP's pivot and the market response is in line with the changing valuations of oil and gas business that were happening before the Pandemic.  Just over a decade ago, Exxon Mobil, for example, set new profit records and was the envy of the market.  Now, it has fallen in value relative to other businesses to $180 billion.  Microsoft, which has committed to be carbon negative by 2030, is worth nine times as much.  As a producer of petrol, Exxon Mobil is not even worth two-thirds the market value of Tesla, the maker of electric vehicles.
These shifts in valuation and market dynamics will resonate across and affect many business supply chains.  Those of us, who make their living selling goods and services to business markets will feel these effects as well.  Leaders of these businesses also have to consider the impacts of a changing climate for sales and marketing and to ask the question:
What does the shift to net zero, mean to our biggest clients?

Don't get blindsided by new net zero opportunities in plain sight
For sales and marketing leaders ambitious to make the most of new climate change driven opportunities, it is challenging to know where to start.  As the net zero transition affects all businesses and economies, we suggest you begin with assessing your largest current clients and markets.
Assuming the pareto rule that 80% of your revenues comes from 20% of your clients, we suggest you may want to take a close look at their public announcements and statutory Sustainability / CSR  reports.  It requires that you consider carefully what do their plans mean to them and importantly for your business with them.
5 questions to unlock the impact of a changing climate for sales and marketing
As you prepare to uncover these new emerging opportunities, we suggest you consider the following questions
How do you and your business get ready for continued success with key clients as they transition to net zero?

Do you understand their new strategic priorities?

How can you enable their strategy?

What are the implications and opportunities for your business?

Who are the new C-Suite audiences you need to engage?
A great time to start your net zero journey
If you are like most people reading annual reports or sustainability reports, you will probably discover jargon and commitments that may be difficult to understand.  It may also be hard to see immediately the connection to the value that your business can bring to these goals.  This is a normal experience, as the transition to net zero is still relatively new.
Don't worry at this stage if you do not have all of the answers.  For many organisations and individuals this can be a learning curve.  Just by beginning to understand the implications, you are likely to be acquiring a head-start over your competition.
However, the shift to net zero is a strategic change in direction.  Its influence is set to grow.  Those that are late to understand its impact risk missing out on opportunities and with it see revenues and market share decline.
Don't leave it too late, make sure you start to see and understand the magnitude of your net zero opportunity today.
If you need assistance to accelerate your understanding of the opportunity, Cambium can help.  We have been helping suppliers understand and engage with net zero and sustainability opportunities in business to business markets for over a decade.

The types of support we can provide includes:
Net zero / Sustainability key account reviews – to help your teams to understand these new opportunities in your most important accounts. These reviews also help client facing staff to get up to speed on this important new agenda.
Support for marketing and social selling teams – to support them by quickly working out how your business can offer value and develop propositions, which support the delivery of client's net zero and sustainability agenda.
Sales and marketing enablement – to improve your client facing staff's ability to understand and then to engage more effectively on these new net zero market opportunities.
Thanks for taking the time to read this article. 
To learn more about the support we can offer your business to see these new strategic opportunities more clearly, please check out our website or get in touch to arrange an exploratory video call.  We look forward to meeting you online, at a time convenient to you, very soon.