Why net zero innovation focus is now vital to sales success
Growing post-Lockdown pressures on business to adopt net zero innovation

The pressures on business to take social and environmental responsibilities more seriously is not just for household names and companies with socially conscious lifestyle brands.
Its becoming increasingly clear that suppliers in B2B markets are also not immune to this pressure.  Many forward-looking businesses have already taken note and responded to the changing needs of their customers.  However, some have been slow to react or are waiting for their customers to make the first move.
For sales and marketing leaders this is unlikely to make for a successful strategy, but in their defence, developing new strategies and tactics while meeting quarterly targets in this very challenging market is a big ask.
Changes underway that mean businesses (your customers) that might see themselves as far removed from well-known or socially conscious brands will have to take notice, particularly of their environmental responsibilities.
Why is this different now?
The answer is that businesses need to pay increased attention to the measurement of their carbon footprint, specifically measurement of their "Scope 3" emissions.  Although all of this may seem like just another red tape type burden, it can also be an opportunity for you to differentiate and sell more value.  For some, it could open up new markets and new client conversations.  Learn more about this trend– Sustainability helps sales and marketing to build-back better
Over the past 10 years the UK government has introduced 3 main reporting schemes, the Carbon Reduction Commitment (CRC – closed in 2019), the Streamlined Energy and Carbon Reporting (SECR – was originally the Mandatory Carbon Reporting Scheme(MCR)), and Energy Savings Opportunity Scheme (ESOS).
All of these have had some success in bringing emissions reporting into the boardroom although many of their critics say they do not go far enough or mandate action to reduce carbon.
Currently around 12,000 companies in the UK are included in the SECR scheme, but the threshold for entry is likely to fall to include smaller businesses as the UK government looks to 'encourage' greater participation in the net zero innovation.
Scope 3 reporting is where an organisation sets out to track emissions of the entire value chain impact and identify where to focus reduction activities.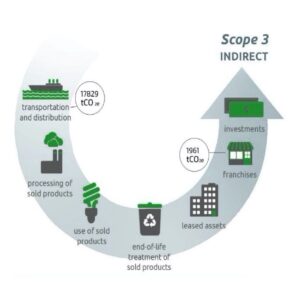 This clearly has a wide remit (12 categories in all – https://ghgprotocol.org/scope-3-technical-calculation-guidance), but as a businesses in the supply chain, your customers will want to know more about the carbon footprint of the goods and services they buy from you.  This means – how efficiently they are made and delivered, the energy consumed as part of its use and even its environmental disposal costs.
How can this be an opportunity?
Scope 3 is currently not yet mandatory, but even if only the "household names and companies with socially conscious lifestyle brands" join in, the ripple effect into the supply chain will be significant.
And unlike the government initiatives referenced above, this pressure will come directly from your customers as they seek to adopt net zero innovation.  You can either see this as yet another burden or potentially a new opportunity to engage them.
If your company is looking for a successful way through to capture this opportunity while meeting its quarterly targets you may like to get in touch.
We know the challenges of sales and marketing, we understand the vocabulary, drivers and implications of these new market dynamics.  Check out our support services for suppliers on how to improve net zero engagement and to leverage sustainability focused sales & marketing.