Accelerate your ESG Sales Success
As an IT salesperson, you're in the business of building a qualified pipeline, closing deals, and smashing targets. ESG and sustainability might seem like just another set of buzzwords, but what if they could be your secret weapon in a crowded market?
You've seen sustainability become a part of everyday decisions – it's in the choices we make, from recycling to commuting. But with aggressive targets and tight schedules, who has the time to unravel ESG jargon? That's where we come in. Our sales enablement support integrates ESG into your sales strategy, making it a powerful tool that adds value to your conversations and aligns with your clients' emerging priorities. Curious? Keep reading.
Meeting the ESG Challenge
Navigating the ESG Maze: Complex principles, endless jargon—how do you quickly make sense of it all?
Bridging the Knowledge Divide: ESG is important, but how do you discuss it credibly with clients?
Aligning with Client Values: How do you ensure you're not missing out on opportunities as businesses prioritise sustainability?
Shaping a Persuasive ESG Dialogue: How to persuasively translate ESG knowledge into client-centred dialogues that aligns an IT solution with the ESG needs of clients?
We're here to transform these challenges into your competitive advantage in a rapidly evolving marketplace.
Cambium's Tailored ESG Solutions for Sales Success
Demystifying the ESG Landscape: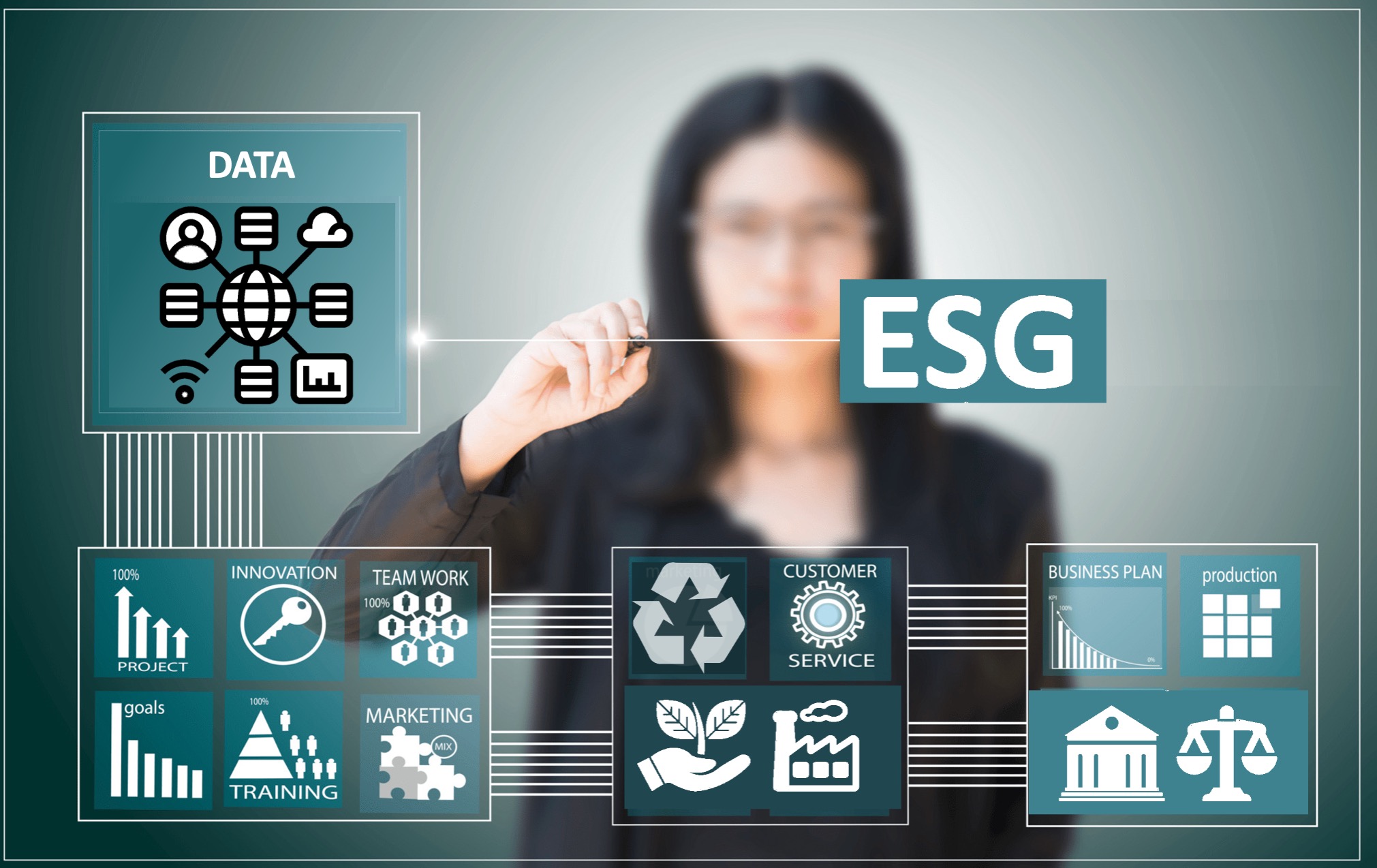 Our custom sales training modules are designed to clarify complex ESG principles, slicing through the jargon to instill confidence in engaging with p

rospects and clients already knowledgeable in this area

.
Mastery of ESG C-Suite Conversations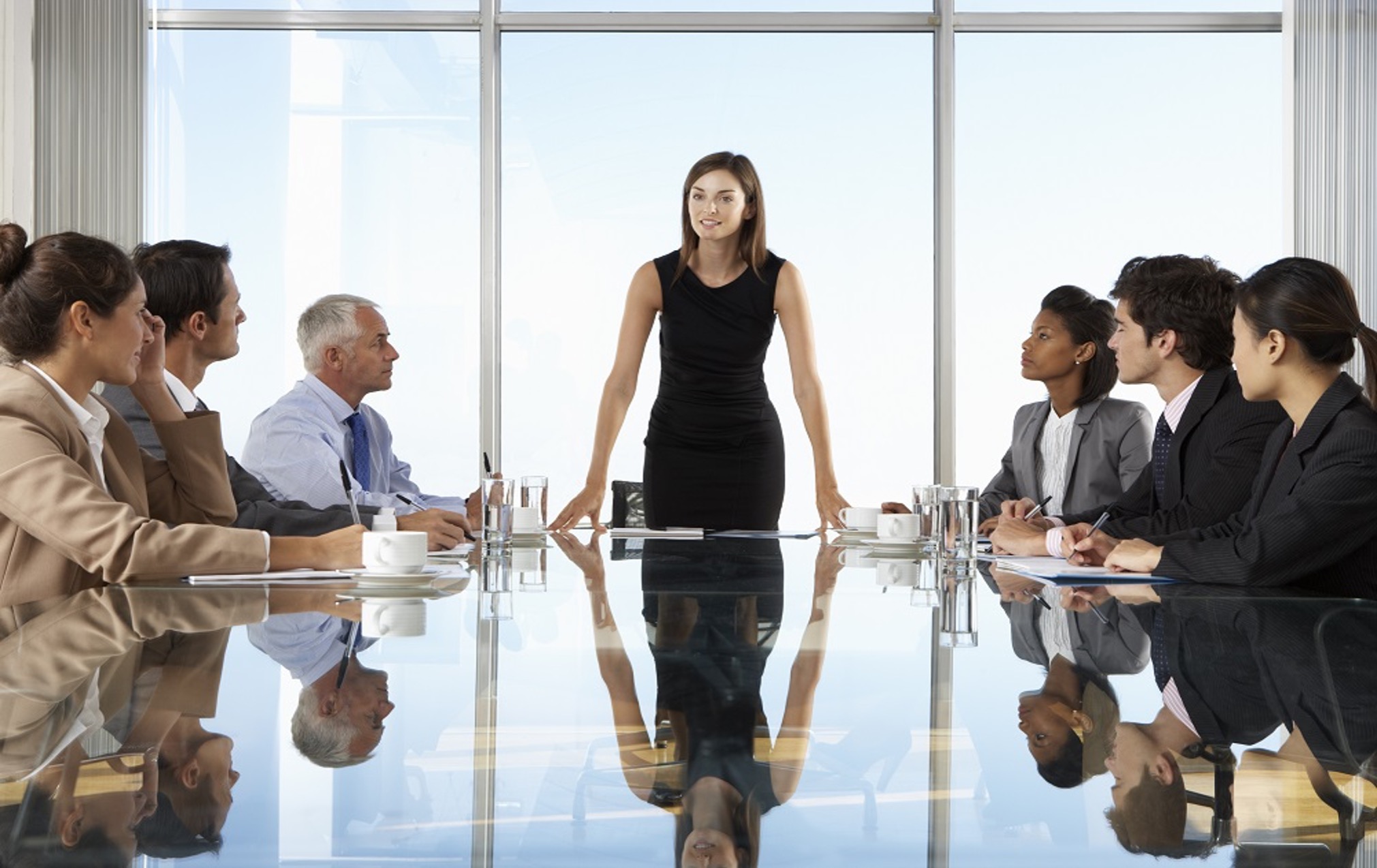 We offer immersive learning experiences that empower you to discuss ESG topics with authority and authenticity, fostering credible conversations with clients who increasingly value ESG in their decision-making.
Synchronising with Client ESG Goals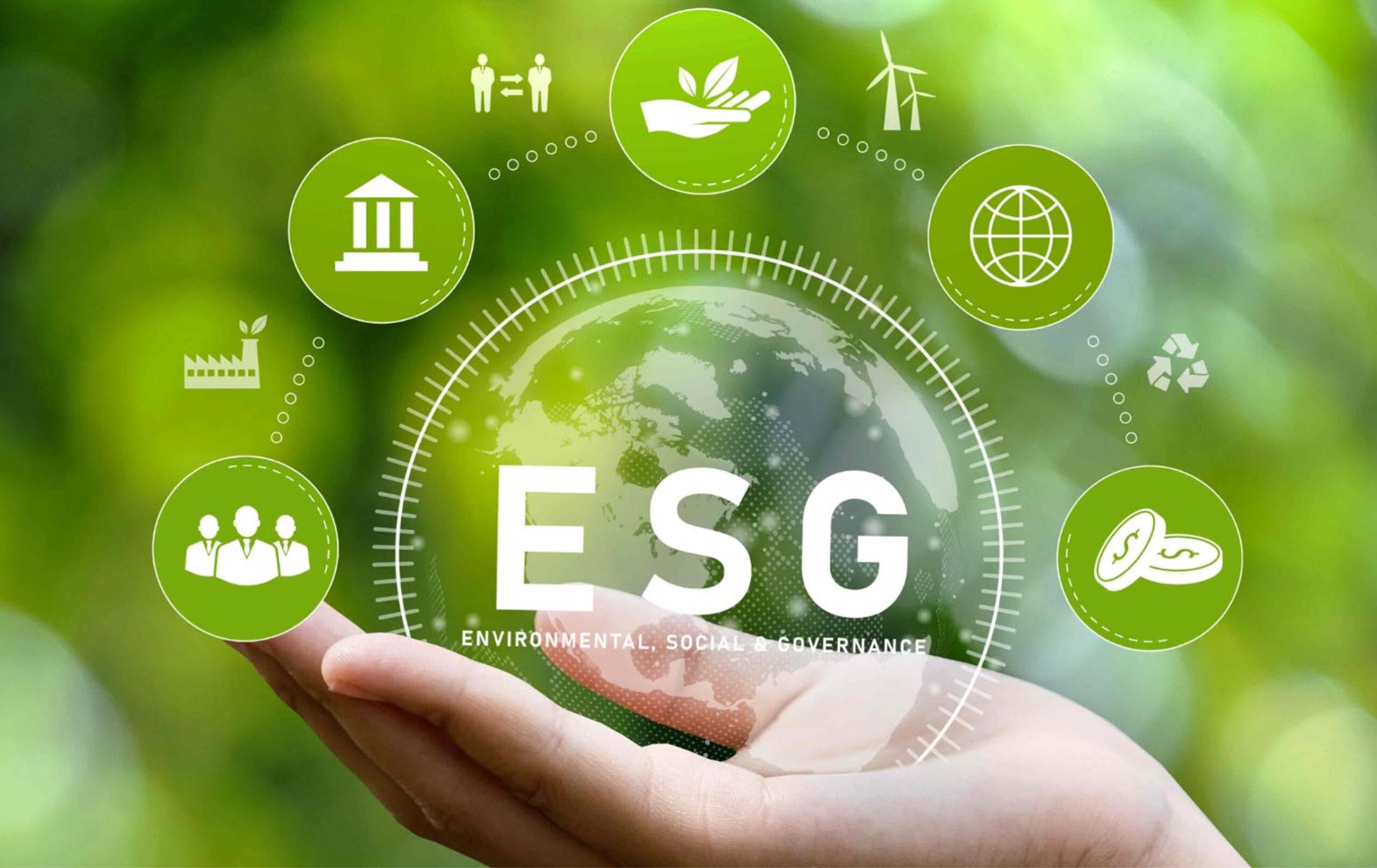 Our training gives salespeople the tools and tactics they need, to line up their ESG offer with a clients' ESG needs. This makes it easier for sellers to spot and make the most of opportunities where they can offer a solution to their clients ESG challenges.
Shaping a Persuasive ESG Sales Dialogue: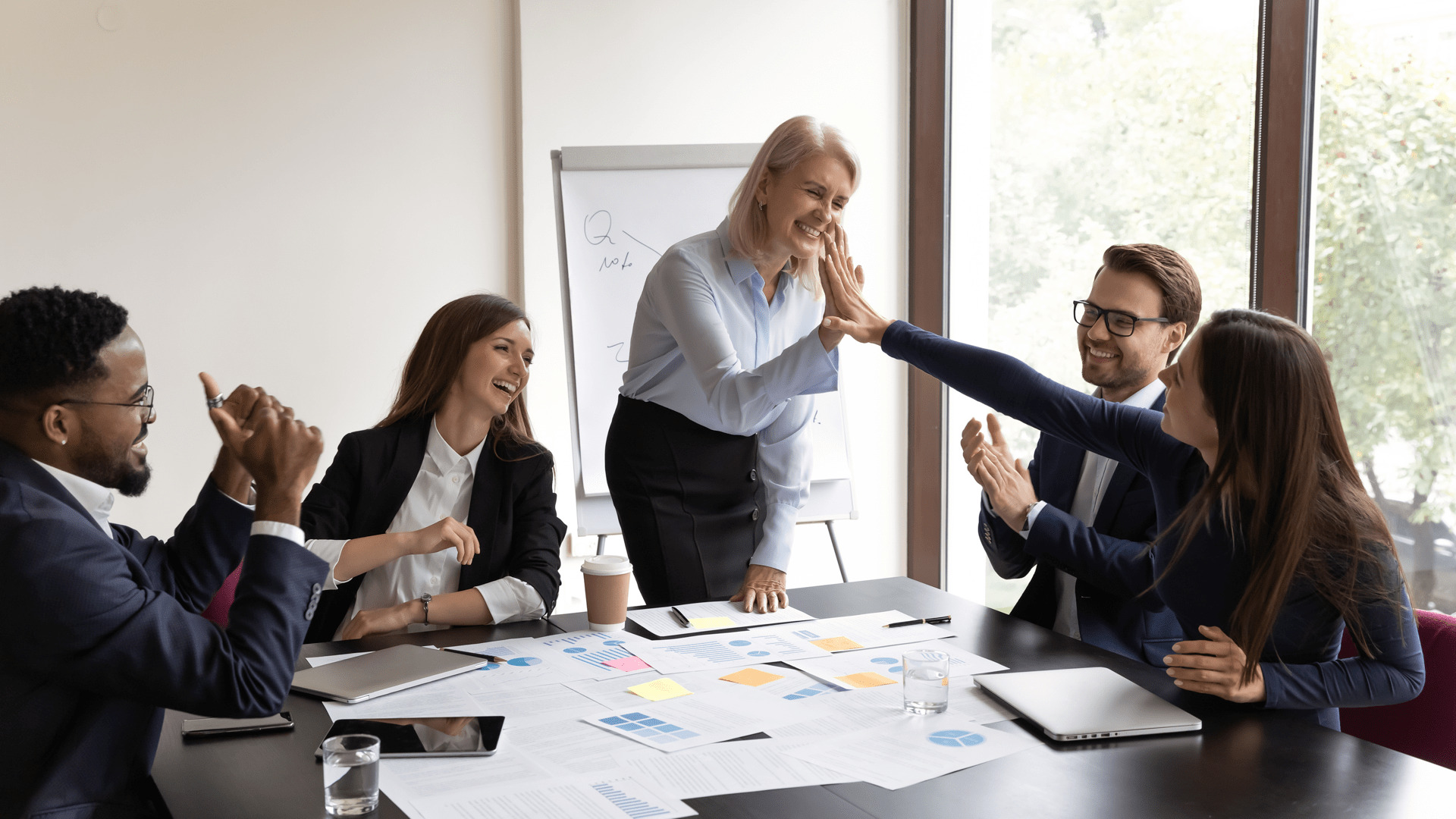 Our training offers an immersive experience with actionable insights and tools, enabling salespeople to practice and master ESG vocabulary and confidently craft narratives that align with clients' ambitions, and effectively position their offer.
Our support enables sales professionals to seamlessly weave ESG into their sales process, ensuring they lead the way in a market where ESG and sustainability is becoming a key differentiator for suppliers.
Don't Just Take Our Word for It
Hear from sales and marketing professionals who have reaped the benefits of our course: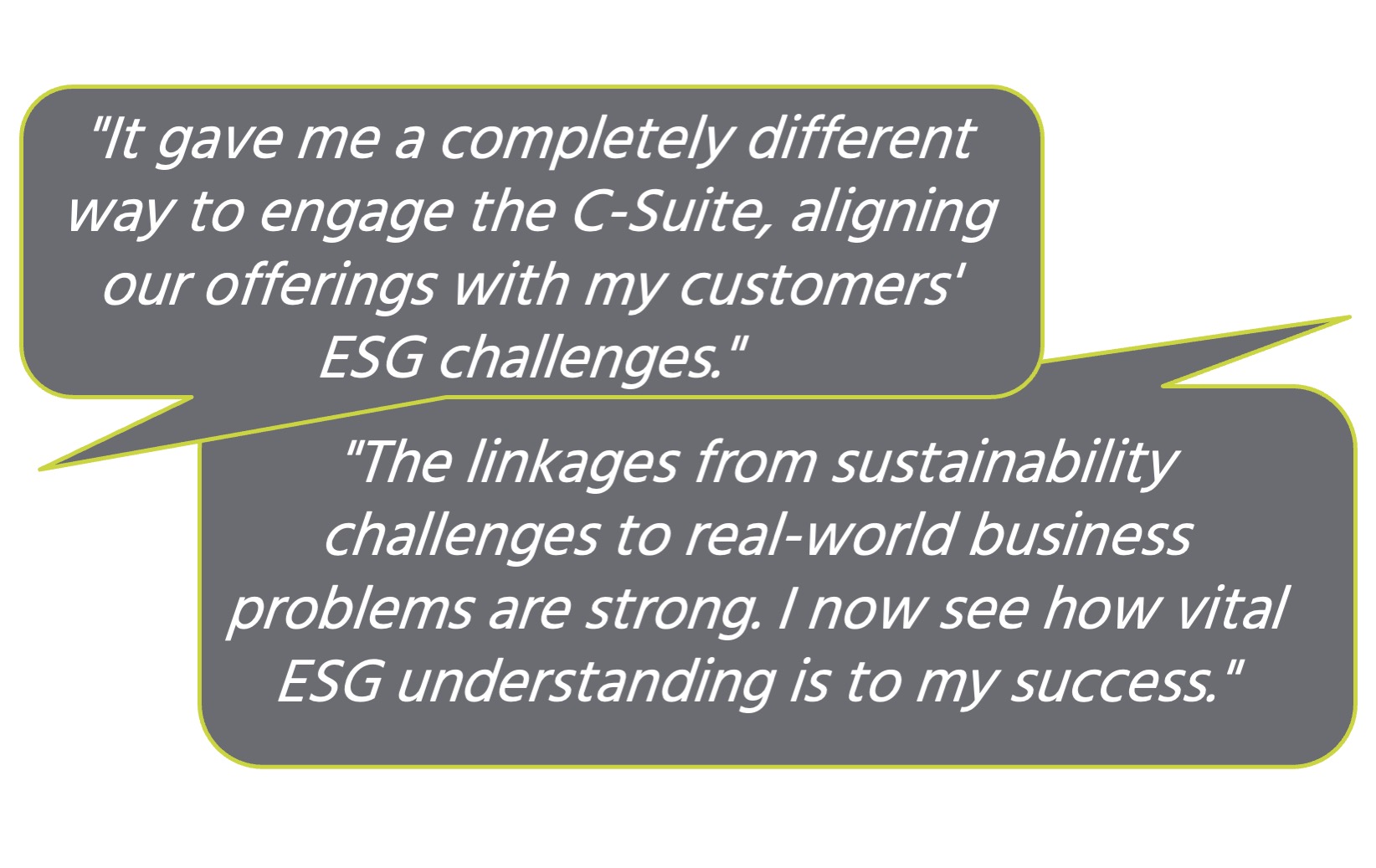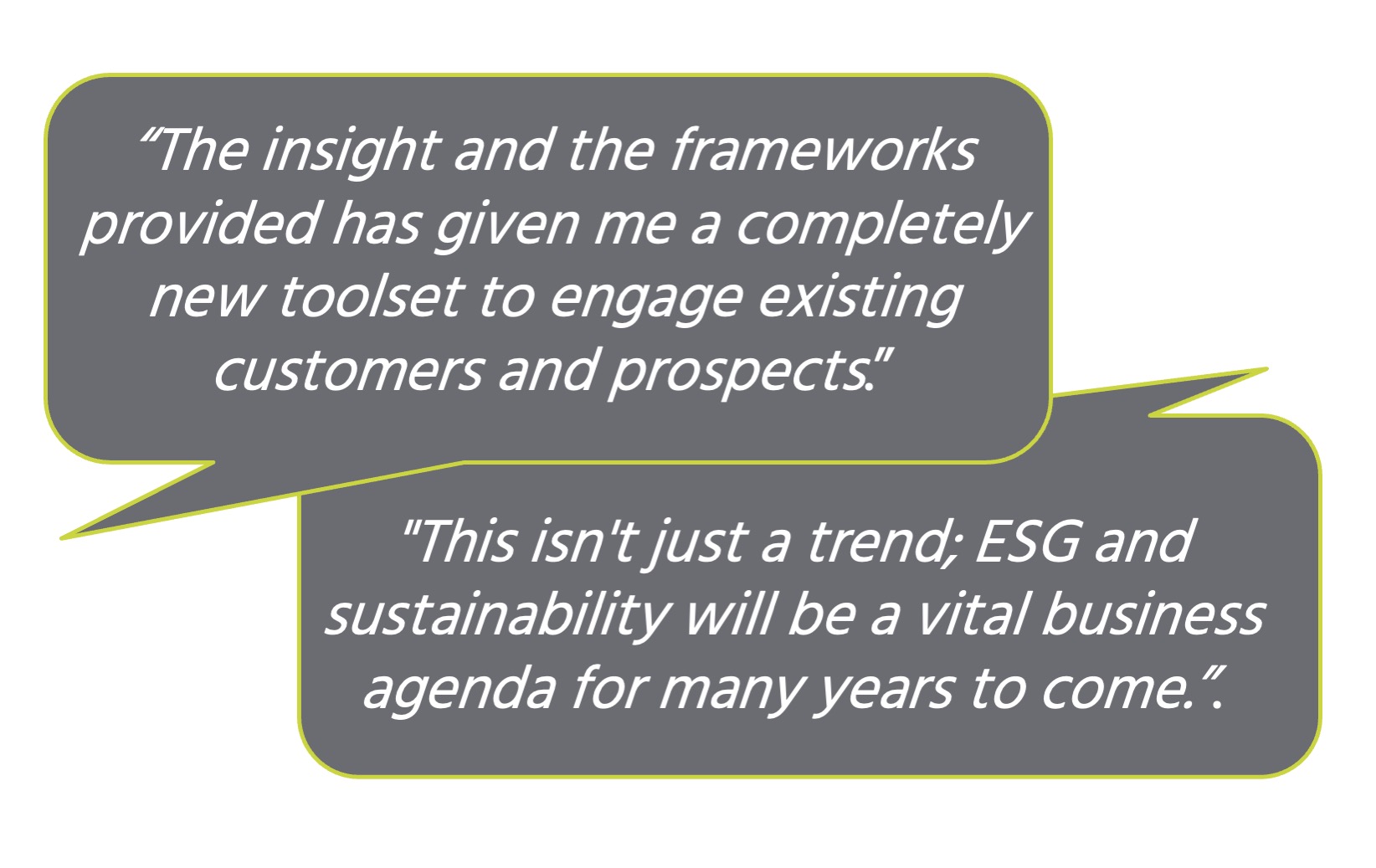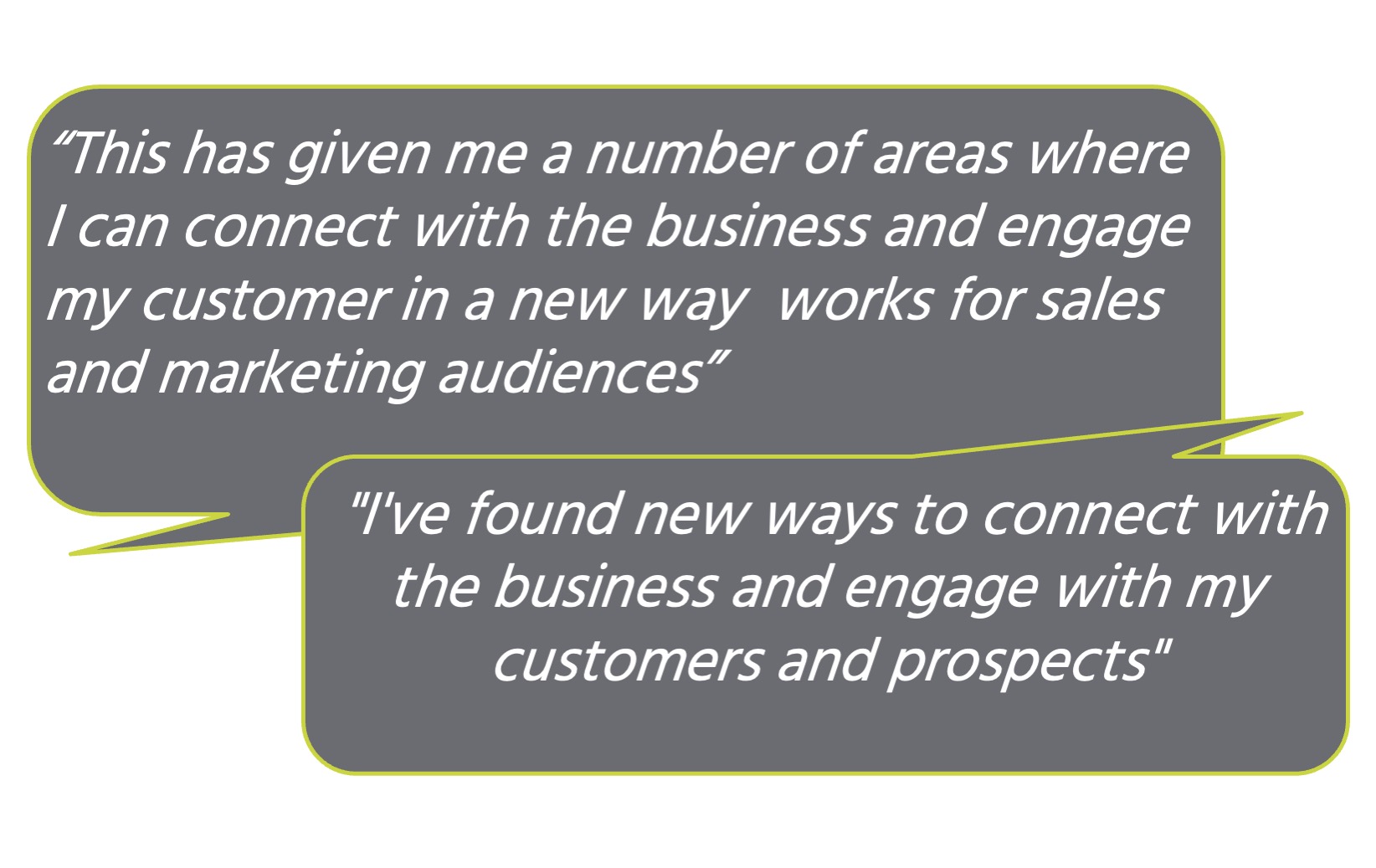 Sharpen your sales edge with our ESG enablement services

Connect with us today to explore how you can start your journey to achieve ESG sales excellence.