Other notable announcements on Day 2 of the COP
Key commitments included:
India's Prime Minister Narendra Modi announcing 2070 #netzero target, backed by ramped up renewables goal for 500GW by 2030, when it will make up half of India's energy supply.
The Brazilian government also announced it is to strengthen its 2030 carbon target.
A major survey of CEOs showing over 70 per cent are now working on net zero strategies.
All see the stakes in the COP negotiations as being high, but there remain some dissenting views regarding the pace of decarbonisation, which will need to be resolved, if the COP is to be an unequivocal success.
There is still much work ahead in the next two weeks to secure a positive outcome to the COP.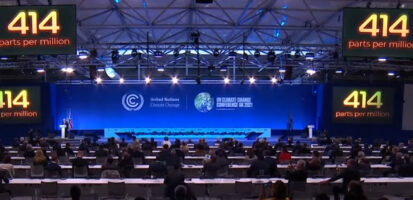 Posted on November 02, 2021 by Cambium Insights
Because of rising carbon dioxide levels in the Earth atmosphere, currently at 414 parts per million, David Attenborough reminded the audience that "the stability we all depend on is breaking".  Citing humans as being the "greatest problem solvers that have ever existed upon Earth", he called for a collective effort to address climate change.  He concluded that "a new Industrial Revolution powered by millions of sustainable innovations is essential and is indeed already beginning." Watch a video of the full speech here.