Declining UK Productivity increases pressure upon researchers to deliver greater impact through more effective collaborative innovation with industry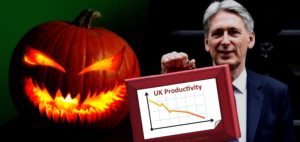 October's report on UK Productivity by the Office for National Statistics (ONS) had some unwelcome news for policymakers.
They revealed that output per worker in the UK was 15.4% below the average for the rest of the G7 in 2016.  Also, the report notes that the UK's "productivity puzzle" – the difference between post-downturn productivity performance and the pre-downturn trend – was 15.8% in 2016.  This was the largest in the G7 and was almost double the average of 8.8% across the rest of the G7.
These data continue a long running challenge with regards to productivity against other G7 countries (below left) – Source: OECD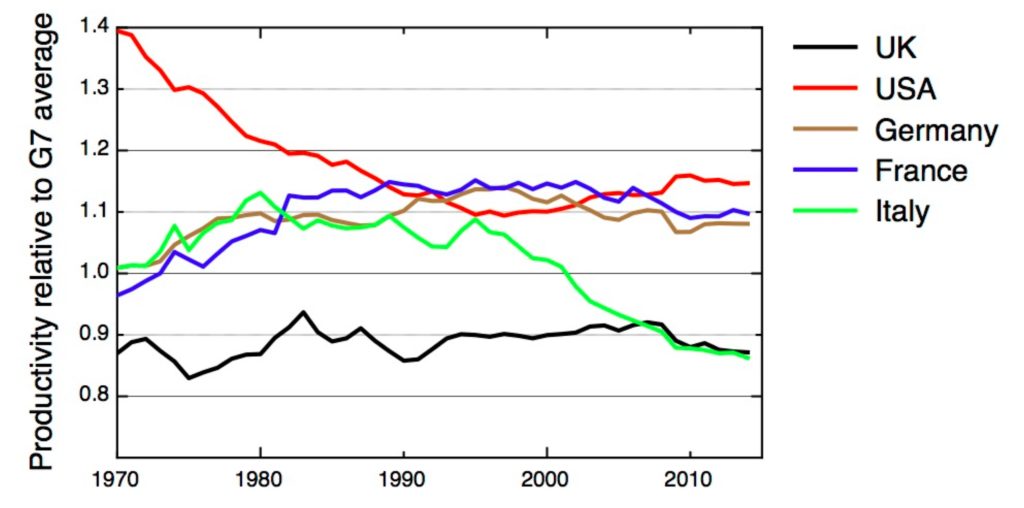 Why does this matter?
These persistent productivity challenges are important since rising living standards and rising productivity are directly linked.  In the near term the impact of this productivity data is likely to be seen in November's budget.
The Office for Budget Responsibility, whose forecasts form the basis of the Chancellor's Budget decisions, – has admitted it is set to cut its productivity forecast for the next five years in November, hitting growth and tax receipts.
Implications for business and research collaborations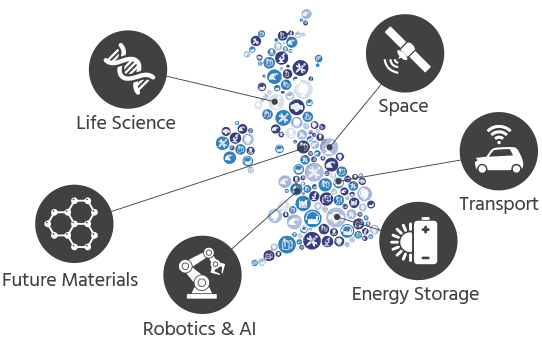 The twin economic pressures of falling budgets and pressure to act on UK productivity will bring more scrutiny to bear on science budgets.  There are already 'noises off' from some business indicating that they wish to see more of the new funding for the Industrial Strategy being directed to applied research rather than "blue-sky" academic research.
This will bring increased focus and pressure on research practitioners to translate their ideas into high impact applications through closer collaboration with industry.  This pressure is most likely to result in greater focus on ensuring recipients of science funding can demonstrate meaningful pathways to impact and to collaborate with industrial partners.
Researchers will need to get early feedback on their research / innovative ideas to understand impact and form industrial collaborations to maximise it
A greater focus on translational research can be a frightening prospect
For exploratory researchers, with an emphasis towards fundamental "blue-sky" research, this transition may be scary, as it poses more questions than answers, such as:
Where to start?

How to get attention from industry in your research?

How to do this effectively without wasting lots of time and effort?

Do you work with one industry partner or many?

How do you make research as impactful as possible, so that the collaboration doesn't become a form of contract research of interest to only a single company?

How do you overcome industry cynicism and demonstrate sincere desire to collaborate and learn from industry?
A new way to improve collaborative innovation with industry

The good news that there is a new approach based upon collaborative innovation that answers these questions.  This approach:
Quickly discovers the areas of research with the greatest impact based on real-world feedback
Accelerates development of contacts and trust with potential industrial collaborators
Improves efficiency of research translation via simultaneous engagement with more than industry partner
Provides a tried and tested pathway to delivering high impact from any research agenda, irrespective of domain or sphere of research expertise
Improves ability to win new applied research funding, ensuring research agendas can "survive and thrive" despite the current funding challenges
Enables traditional exploration focused researchers to use their scientific expertise to make a meaningful contribution to the UK's current economic challenges, such as productivity.
This new approach to translational research is called the InCEPT™ Process
Learn more about this new best practice in Collaborative Innovation
The InCEPTTM Process can quickly help researchers overcome any fears of translational research, by quickly validating the value of their research with "challenge owners" from any sector
You can find out more about the InCEPTTM Process here or alternatively download this free overview