What does a Facebook boycott signal for sales & marketing leaders?
Posted on July 01, 2020 by Cambium Insights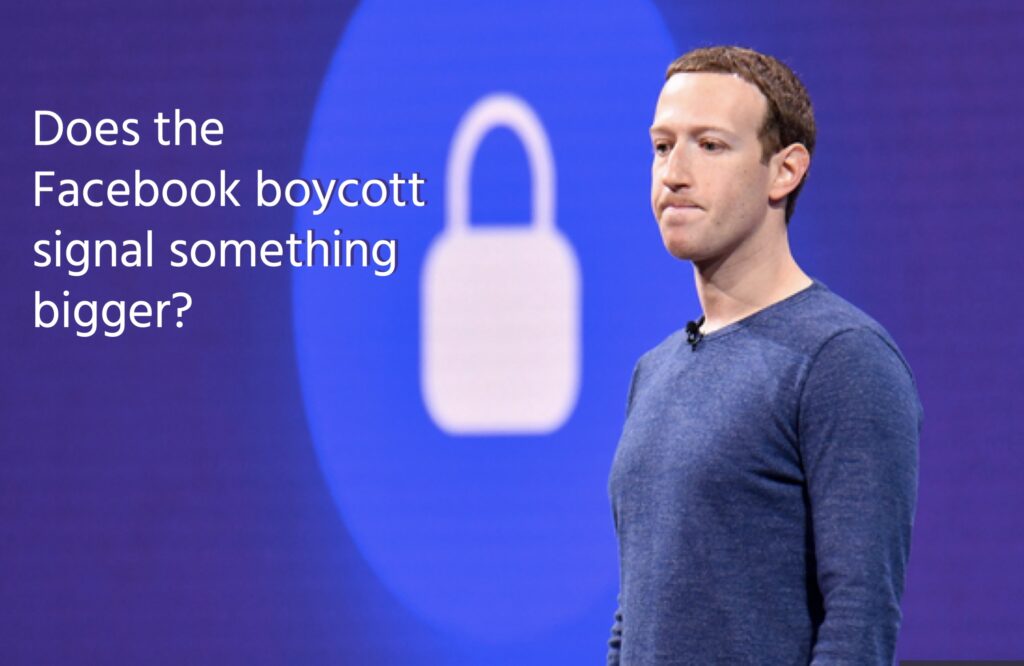 Sales & marketing leaders may need to re-think what they thought they knew to be true about their customer's needs.  So, what's changed?
While many still hope for a return to 'normality', others are facing up to a new reality. Things are changing beyond the immediate impact of the virus.  Societal values and norms are shifting.  Sales & Marketing leaders  would do well to take note of these changes and what this will mean for their customers and their customers' buying decisions.
As I started to write this blog, over 30 organisations, many of which are global brands, 'paused' their advertising spend on Facebook as part of the #StopHateForProfit boycott.  Although some, particularly in the lifestyle clothing segment, may have "followed" the initial boycotters like Patagonia and The North Face, the action nevertheless signifies a major change that crosses many sectors and business types.  The list now exceeds 350.
So which companies are taking this stand?
There have been many protests in the past against companies calling them to be more socially and environmentally responsible.  What makes this different is that it is not just household names and companies with socially conscious lifestyle brands.
Alongside Adidas, Ben & Jerrys and Coca Cola, the growing list of dissenters include organisations representing; chemical producers, IT services, solar panel providers, AI technology businesses, financial management software providers, small and large scale manufacturers, energy management companies, electrical equipment suppliers, as well as representatives from the telecommunications and pharmaceutical sectors.  The list goes on.
What are the implications for sales & marketing leaders?
So, what is this signalling and what are the lessons to be learned, in particular for sales & marketing leaders?  This has all the hallmarks of a significant shift in societal values.  This change is set to endure and become part of the new "normal".  Business priorities and decision-making criteria will also align with the new standards in our new "normal".  Understanding this changing mindset will be key. Both for maintaining good future customer relationships and even more importantly in forging new ones.
A major lesson is your business also needs to  align to these new norms.  Do you want to be the 'Patagonia or The North Face", or seen as just a follower or even worse a laggard?
Where can you learn more?
For 10 years Cambium has specialised in developing sales & marketing leaders and their teams to better understand the drivers, vocabulary and decision-making criteria of their customer's sustainability agenda.  Over this period, we have tracked the early adopters as the market dynamics have changed.  Our enablement programmes, specifically designed for the sales & marketing leaders and their teams, have helped  identify and develop opportunities within existing and new accounts.  Find out more
The Facebook boycott is one of many business-related actions signalling this change. To find out more, get in touch (info@cambiumllp.com) to set up a video call for an exploratory discussion.