Glasgow Breakthroughs to add 20m jobs & $16 trn to economy
Posted on November 03, 2021 by Cambium Insights
The "Glasgow Breakthroughs" announced yesterday at COP26 offer a co-ordinated innovation pathway to achieve net zero in "hard to abate" industrial sectors.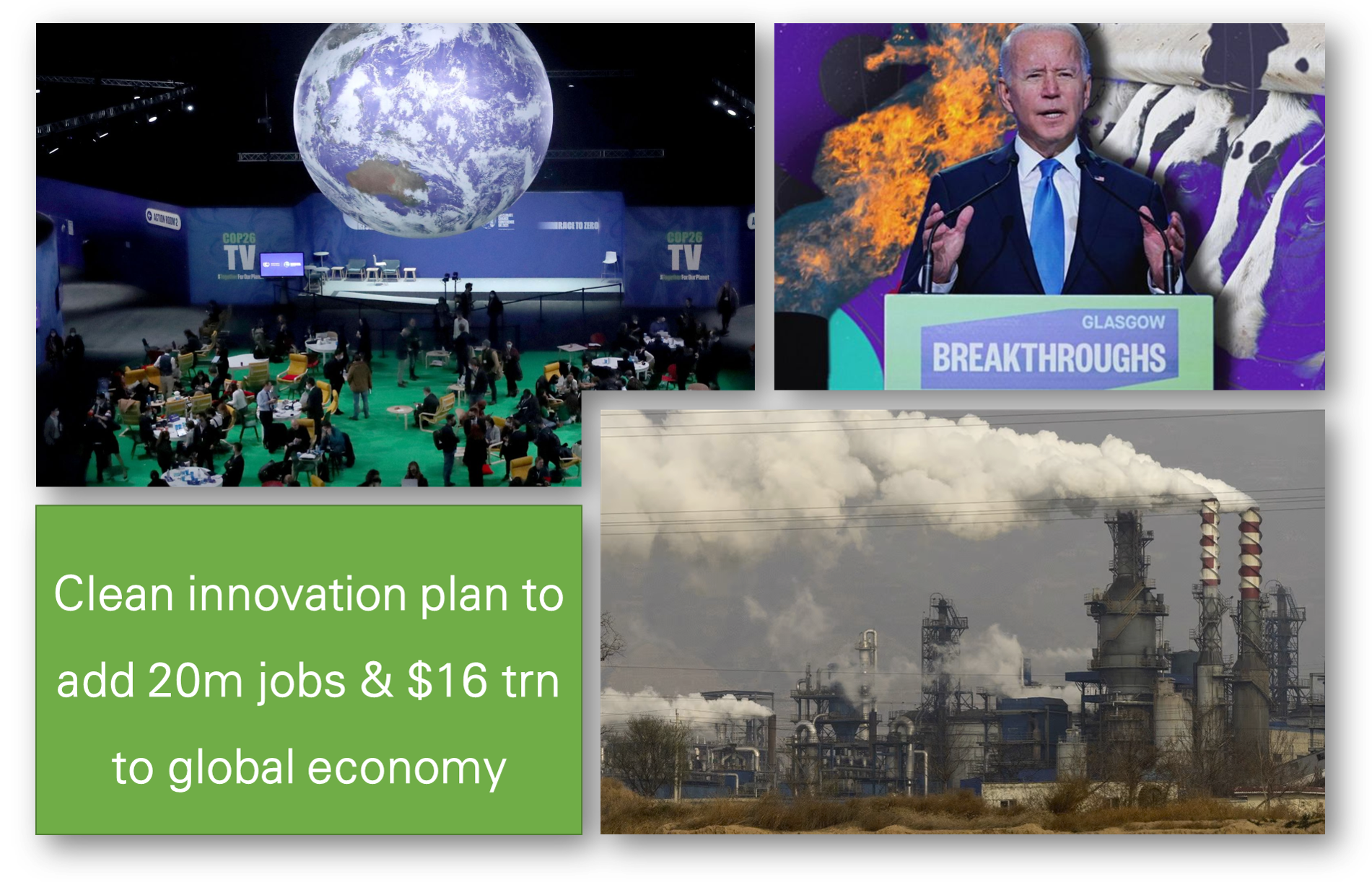 Day 3 of COP26 was marked by several new commitments from many countries, businesses and stakeholders.  Notably these included new agreements on the vital climate action issues of  reducing Methane emissions and securing the end of deforestation by 2030.
As good as these announcements were, they did not have the backing of all the major emitters.  However, one initiative that did secure the backing of both China and India.  This was in the important sphere of collaborative innovation to speed up affordable clean tech worldwide.
What are the "Glasgow Breakthroughs"?
This new plan had the backing of US, India, EU, China, developing economies and some of the countries most vulnerable to climate change.  They represent more than 70% of the world's economy and every region.
These "Breakthroughs" declare five goals to be achieved by 2030 in accelerating technological innovation in several hard to abate sectors, which are vital to achievement of meaningful emissions reduction. These commitments are in sectors that collectively cover more than 50% of global emissions.  By 2030 the plans call for action and progress in the following sectors:
Power: ensure that clean power is the most affordable and reliable option for all countries to meet their power needs efficiently.
Road Transport: that zero emission vehicles are the new normal and accessible, affordable, and sustainable in all regions by 2030.
Steel: establish near-zero emission steel as the preferred choice in global markets, with efficient use and near-zero emission steel production established and growing in every region.
Hydrogen: make sure that affordable renewable and low carbon hydrogen is globally available.
Agriculture: that climate-resilient, sustainable agriculture is the most attractive and widely adopted option for farmers everywhere.
Delivering these first five breakthroughs could create 20 million new jobs globally and add over $16 trillion across both emerging and advanced economies.
A Co-ordinated Approach
The proposal is that these breakthrough plans will see countries and businesses work closely through a range of leading international initiatives to accelerate innovation and scale up of new green industries.
It is expected that delivery of these plans will also include co-ordinated action by participants in areas that include:
stimulating green investment through strong signals to industry about the future economy
aligning policies and standards
joining up R&D efforts
coordinating public investments
mobilising private finance particularly for developing nations.
Action Plans not Just Words
Unlike many of the other commitments made at COP these plans are supported by a "Global Checkpoint Process" to monitor progress.  This process aims to sustain and continually strengthen international cooperation across the agenda throughout this decade.
The plan's architects aim to catalyse an innovative ambition loop between political leadership and the dynamism of the private sector to create momentum and impetus towards a resilient, prosperous zero carbon future.
This joined up partnership between governments and industry looks to build on progress already achieved in clean tech sectors like off-shore wind and battery technology.  These approaches have seen costs of clean technology in these sectors fall by 60 and 90% respectively.
A viable net zero innovation pathway
Getting to net zero will be an enormous challenge requiring transformation of every activity in our lives, but it creates especially hard challenges for "hard to abate" sectors of the economy.
The co-ordinated effort, suggested by the "Glasgow Breakthroughs" offers a viable pathway to ensure that the "cost premium" for adopting greener, cleaner technology is much reduced, so removing a key obstacle to widespread adoption.
If successful, this programme could become an important enabler of the net zero transition plans of many carbon intensive industrial sectors.